Classroom to Careers: Emelie Knobloch
Author: tbrow | Image: tbrow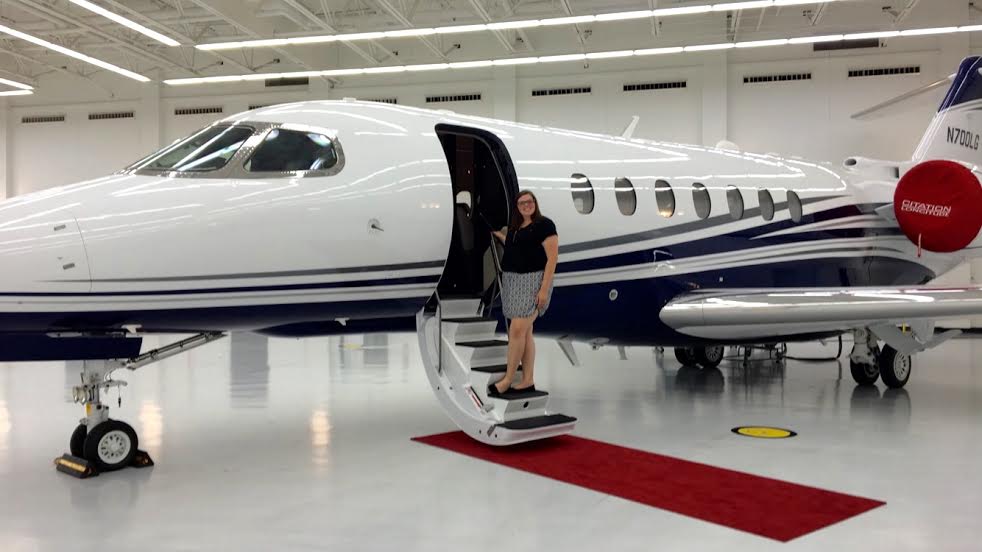 **Emelie Knobloch**
Senior in Public Relations and English
Hometown: Durant, Iowa
Communication Intern at Textron Aviation
**A conflicted decision**
Growing up as a Cyclone fan in Hawkeye territory, Emelie had to make the difficult decision of which college to attend.
"It was ultimately the private school feel of the Greenlee School in a largely populated setting that drew me into Iowa State," Emelie said. "I was also very interested in the opportunities outside of the classroom Iowa State had to offer like choir and studying abroad." The out of class opportunities she took advantage of would lead to some the biggest highlights of her college career: participating in the National Student Exchange Program at the University of Alaska Southeast and becoming the only Communications Intern at Textron Aviation. Emelie found this internship using CyHire and believes, "I would not have been given that opportunity without Textron Aviation's partnership with Iowa State."
**A new challenge**
On her first day at Textron Aviation, Emelie was not standing idly by.
"I was presented with all of my projects, wrote a news story for our internal news page and organized 200 volunteers for our community partnership with the Special Olympics by the end of the first day." Her supervisor gave her projects any other full-time employee would be given. As the ten weeks of her internship came to a close, Emelie successfully created a communications plan for the first flight of their newest aircraft, developed an employee app for their employee population, and flew a plane.
**A job opportunity**
With the conclusion of her internship and the pursuit of her final year at Iowa State, Emelie reflects on her education.
"With every job, there are going to be a lot of things that you have never been exposed to and you won't know how to do them," said Emelie. "My education from Iowa State has prepared me for those situations. It gives me the knowledge base of how to research what I needed to learn and what questions I needed to ask." Emelie was offered two full time jobs at Textron Aviation and accepted a position with them for the summer after graduation in Human Resources. From an uncertain beginning to full-time employment, Emelie's experience shows that some of best opportunities take place outside the classroom.