Classroom to Careers: Emily Benda
Author: tbrow | Image: tbrow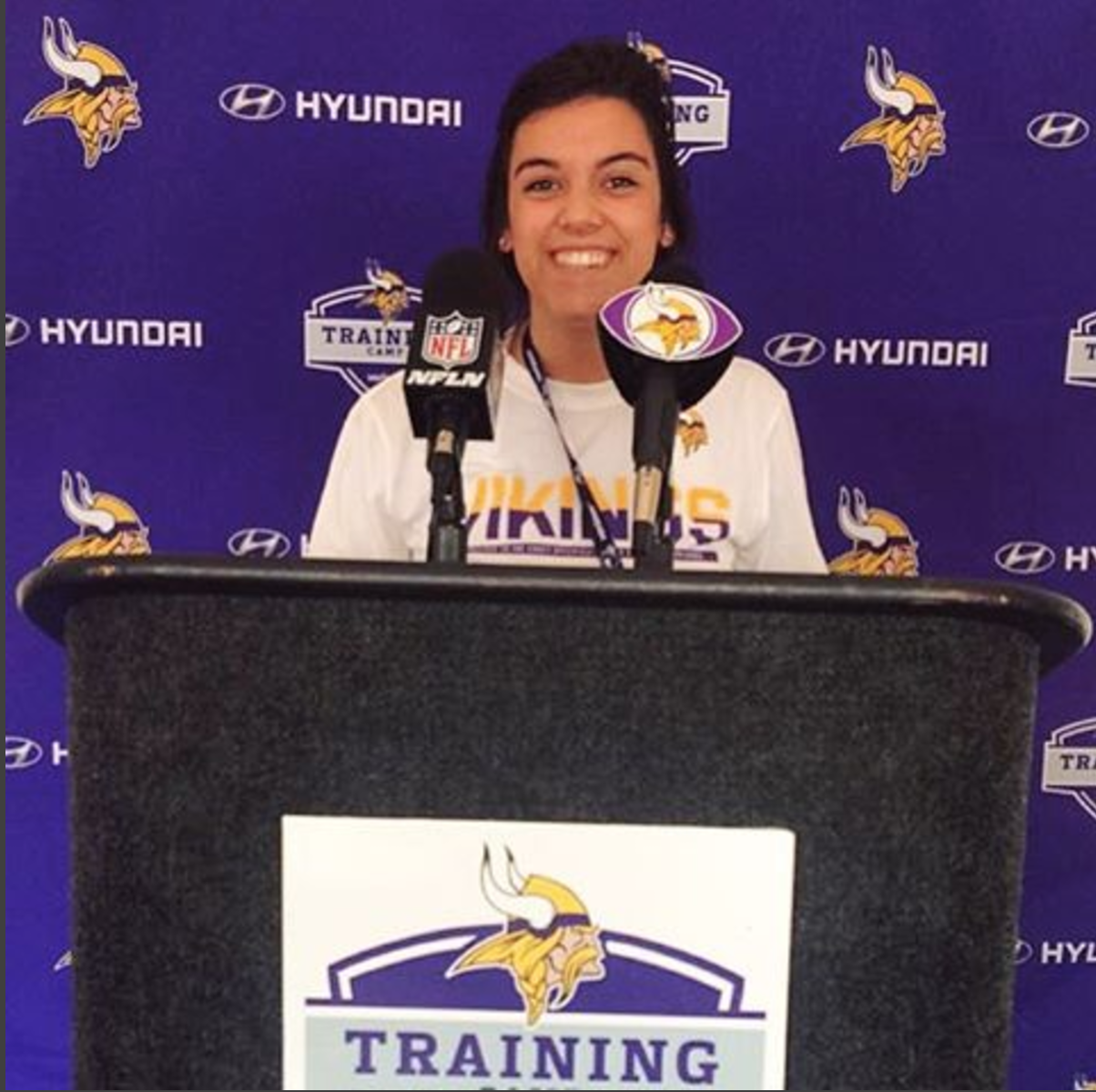 **Emily Benda**
Junior in Journalism and Spanish
Hometown: Cedar Falls, IA
Interned with Minnesota Vikings,
Upcoming Internship with Land O' Lakes
As a high schooler on her campus visit, Emily fell in love with the welcoming feeling that radiated across campus. Now, as a junior who passes by those tour groups with a backpack in tow, she gives off that same welcoming sense, as she's hardly ever able to walk to class without saying hi to at least a few people.
Wanting to expand her ability to travel and community with people from a variety of cultures, Emily chose to pursue a degree in Spanish, and her love for yearbook influenced her to pick up a second major in journalism and mass communication. From taking photos for Dean of Students Office to securing her fourth official internship, Emily has been able to dabble in all aspects of communication both on and off campus.
**From CyHire to the Sidelines**
While she had never considered a career in sports, one of Emily's proudest moments was getting offered a public relations internship with the Minnesota Vikings, where she learned how field and media system operates with a national football team.
"I was shocked! It was a "once in a lifetime" opportunity to work so closely with the players, media and other Vikings personnel," said Emily. "I learned so much in that role about the sports industry and what I did and did not want in a future career."
**Defense to Dairy**
Now in her second semester as a junior, Emily is giving her sports career a break and heading into the summer with a communications internship at Land O' Lakes, where she'll be assisting with public relations and internal communications projects, such as a newsletter and company website.
"I am constantly checking CyHire for internship opportunities, which is how I found the position with Land O' Lakes. However, this position was not listed under my own major, journalism, so it took extra searching under broader terms to find it," said Emily.
**Always on the Hunt**
Finding an internship can be tough, but Emily's learned how to take advantage of all the resources here on campus to better her chances of landing a position.
During her freshman year, she served as a career fair ambassador that allowed her to get acquainted with the process without too much pressure. Now, she has her application process down to a routine.
"I start looking for internships usually around the time when I get back to school in the fall, just to see what companies typically hire interns, whether or not they pay them etcetera," said Emily. "I also keep my resume updated year round so I don't have to spend too much time updating it, but I always give it to a friend or adviser for a second look before I print them for the career fairs."
In addition to keeping an eye on CyHire, Emily looks on company websites and their career pages for specific companies that's she's interested in.
"If you wow recruiters in that first step, it's easier to impress them more once you receive an interview. I write multiple different cover letters to tailor them to each company since they are all so unique," said Emily. "This takes more effort, but I believe it shows more interest in that first step, which is a huge advantage."