LAS Alumni Spotlight – Samantha Britt
Author: tbrow | Image: tbrow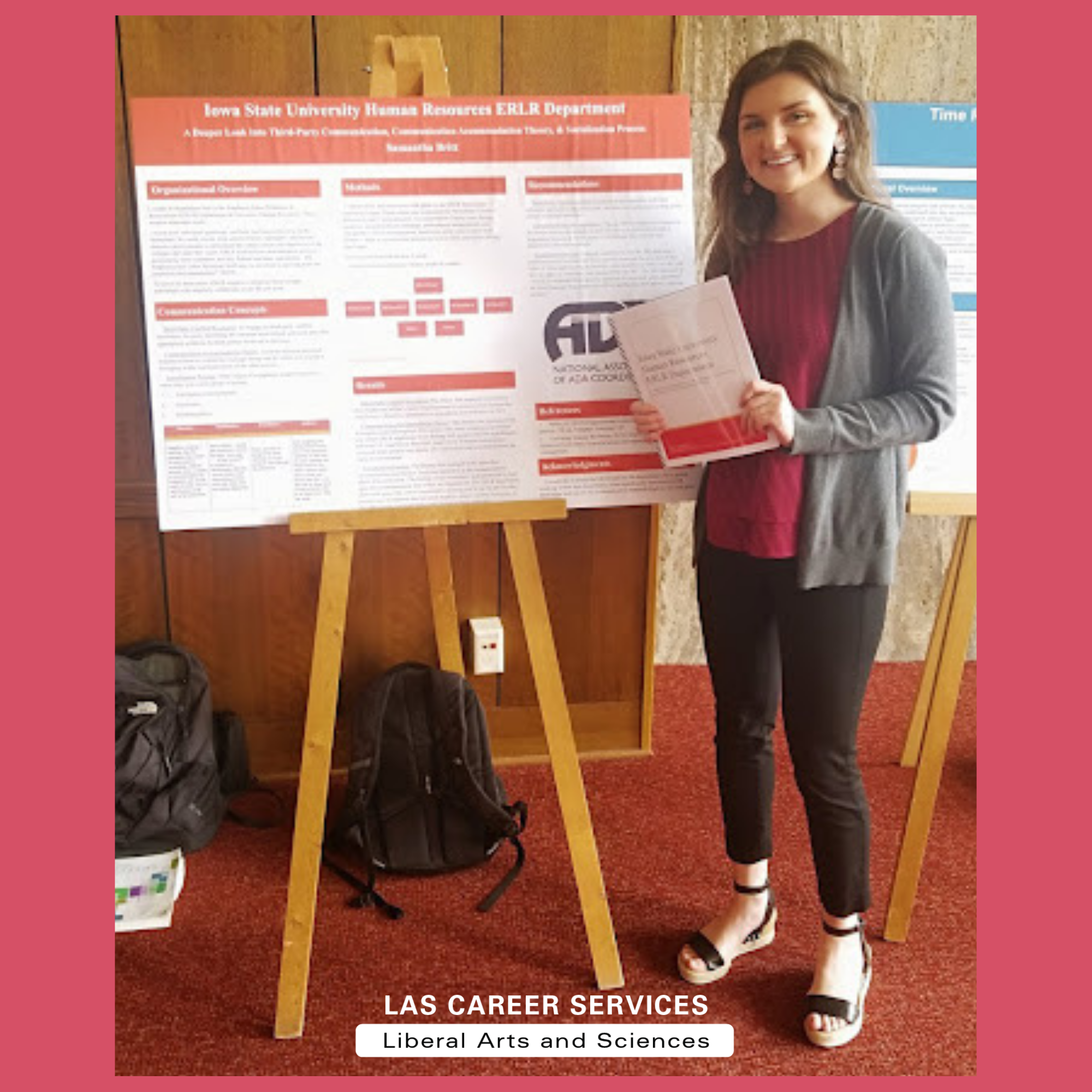 Alumni Spotlight – Samantha Britt    
Name: Samantha Britt  
Undergrad Major: Communication Studies and Public Relations with Leadership Certificate.  
Graduated: 2019  
Current Job Title: HR Generalist  
Current Employer: Palmer Food Services 
Life is all about taking significant steps and putting yourself out there. After hearing what Samantha says about her experience and journey after Iowa State University, she did just that! After graduating with her Bachelor's in Communication Studies & Public Relations with a Leadership Certificate, Samantha Britt took a jump and moved to Rochester, New York, and began working at an agency as a recruiter. Samantha says that "working for an agency helped [her] develop the fundamentals of recruitment." Everything you do to get to where you want to be should help you along the way.  
What was your undergraduate experience like at Iowa State University?  
Iowa State can seem intimidating to some; Samantha's favorite part "was how a large school could feel so small." Iowa State has so many opportunities to help you create a close-knit community with others. Samantha joined many clubs and participated in different campus events at Iowa State that helped her feel part of the community.  
"They had many fantastic extracurricular programs to join right from the start of Freshman year." – Samantha Britt.
What did you do at Iowa State that helped prepare you for where you are now?   
Similar to joining clubs, Samantha joined the Society for Human Resource Management her junior year. Samantha was able to "understand the many different career paths someone can take in HR, and it was a great way to learn about internships in the area." Samantha reminisced on her time interning for Iowa State's Employee and Labor Relations Department– "that was the best," she says! It is so valuable to witness first-hand people working in the field that you are interested in. 
"To this day, I still think about working with them and how I can bring that fun and the supportive environment everywhere I go." – Samantha Britt.  
What advice would you give to undergraduate students?   
"USE CAREER SERVICES!" – Samantha Britt.  
We at LAS Career Services agree! Samantha was able to receive excellent guidance after graduation. It can be overwhelming to figure out where to begin your job searching journey. Lucky for Samantha and every other LAS student at Iowa State, we are here to help! Samantha says, "[LAS Career Services] helped [her] look for jobs in Rochester and taught [her] how to change [her] resume to fit the job description without taking an hour to apply to each job."   
It is also essential to take care of yourself. It can be lonely moving to college for the first time. Joining different clubs can help you build new relationships and a community! Samantha joined clubs to help her grow and flourish academically and professionally and found clubs within her interests, like Students Helping Rescued Animals!  
"Join any club you are interested in; it doesn't have to be related to your major." – Samantha Britt.  
What is one thing you wish you would have told yourself freshman year and senior year?  
We all wish we could go back in time and tell our younger selves to do things differently or let ourselves know that we are doing the right thing. Samantha had some words of wisdom for her younger self: 
Freshman year Samantha

: 

"Don't bother with majoring in dietetics – microbiology was not fun for you."  

 

Senior year Samantha

:

 "Copy works take a lot longer than you think to print your Communications Capstone project, so don't wait until the day before to have it printed!" 

 
Blog by: Taylor Mathis