LAS Alumni Spotlight – Halee Olson
Author: tbrow | Image: tbrow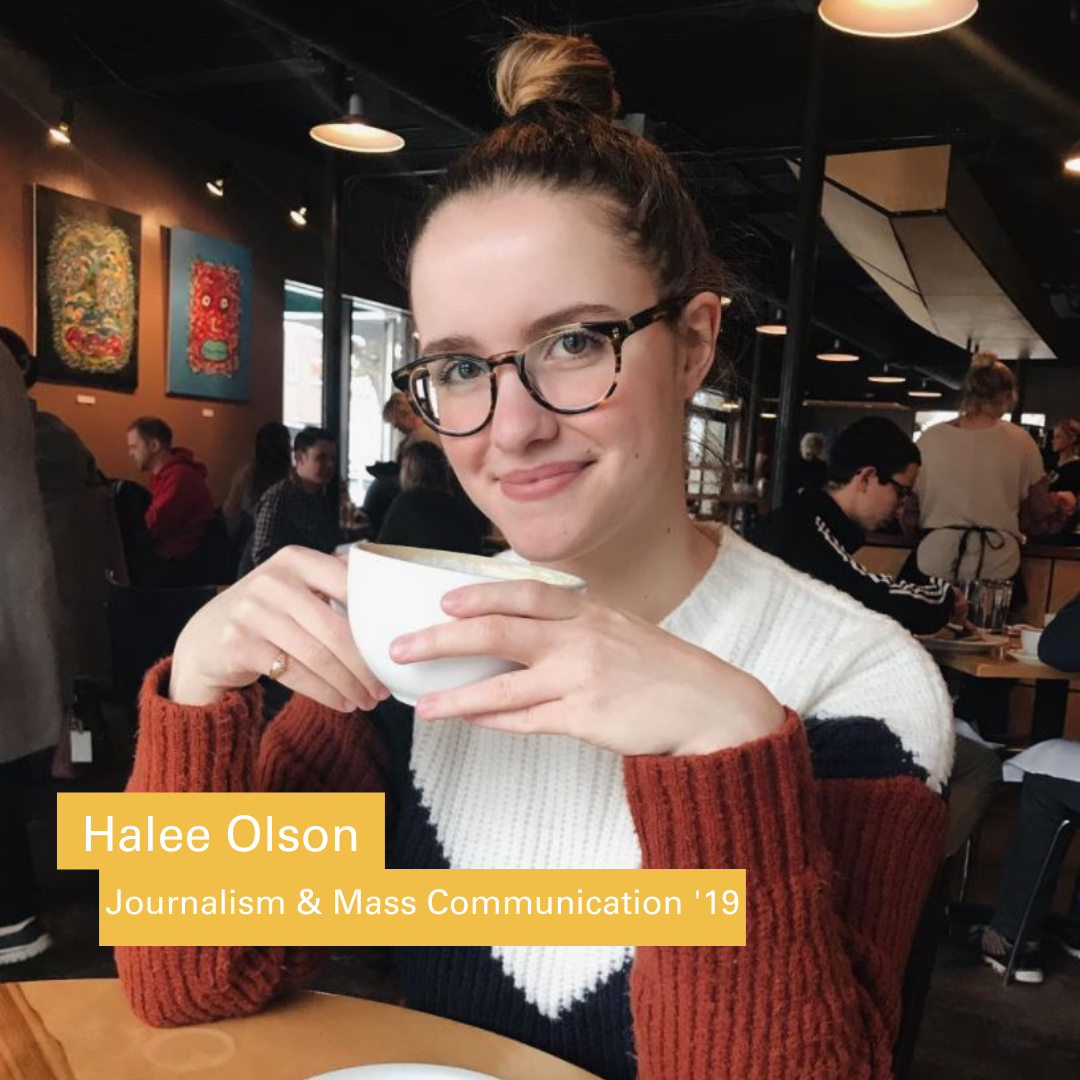 LAS Alumni Spotlight 
Name: Halee Olson 
Major: Journalism & Mass Communication 
Minor: Child, Adult, and Family Services 
Graduation Year: 2019 
What was your undergraduate experience like at Iowa State University?   
Halee thoroughly enjoyed her undergraduate experience at Iowa State and said it was great! Halee found her place in the Greenlee School and LOVED it.   
"I may be a bit biased, but I think the Greenlee professors and advisors are top-notch. They do a great job of making sure you have plenty of clips for your portfolio and real-world experience from the required 499A internship."  
Halee credits the TREND magazine for helping make her undergraduate experience one to remember. Halle describes TREND, "TREND is a student-run fashion and lifestyle publication where I held roles as a staff writer, lifestyle editor, and copy editor. TREND is where I met so many great friends and discovered my passion for writing and editing."   
What did you do at Iowa State that helped prepare you for where you are now?   
Halee completed two different internships as an undergrad, a communications intern at YSS for two years and a marketing intern at Premier Athlete Training for a summer.  
"I think those experiences played a huge role in helping me secure my post-graduate job."  
Internships are a great way to gain experience in your desired field of work and make connections and find your place.   
"I would highly recommend completing at least one internship as an undergrad! The more experience you can put on your resume, the better. Getting involved with organizations on campus relevant to my major was also huge. My involvement with TREND gave me a handful of writing and editing clips, as well as leadership and magazine production experience."  
What influenced your decision to apply for the position you have now?   
"I enjoyed living in Ames (Main Street rocks, good culture, great restaurants) and was hoping to stick around the area. I had also heard that Iowa State was a great place to work, so the combination of those two things is what drove me to apply."  
When did you decide on your next step after graduating w/ your bachelor's degree, and what did the process of taking those next steps look like?   
It can be difficult to know where to begin. Halee figured out her next big steps during her senior year.  
"I decided that my next step was to find a journalism/communications role during my senior year, and I started submitting applications at the start of my final semester."  
If things don't go according to plan, it is a-okay! There is no correct way to take your next steps after graduation.   
"I am not trying to freak anyone out, but the process of securing a job took months, around 100 applications and a handful of rejections. So, if you find yourself in a similar experience, you are not alone, and it does not mean you are a bad candidate!"  
Iowa State is here to prepare everyone for your next steps! Halee was able to land her current role by submitting her updated resume and cover letter, completing one phone screening with a staff recruiting specialist, completing one interview with a panel of current employees, and one interview with the Vice President of University Human Resources. Halee currently works as a communications assistant at Iowa State University in the University Human Resources department and has worked there since January 2020.  
What advice would you give to undergraduate students?   
Halee emphasizes the importance of gaining a lot of experience. It is important when securing a post-graduate job but enjoying your time at Iowa State is also important.  
"Take time to have fun and do all the quintessential "college" things like joining clubs and tailgating. I would also recommend studying abroad if you can. I never did, and I wish I would have!"  
What thing do you wish you could have told yourself freshman year and senior year?  
Freshman:  
"I would have told freshman year Halee to stop worrying so much about what to major in."  
Halle came into Iowa State undeclared and had switched her major three times before finding what she was meant to be in.  
"You don't have to know exactly what you want to do when you arrive on campus, and I do not think that should be expected of us either. If you explore your options and get involved, you'll find your niche."  
Senior:  
"I think senior year Halee needed to hear that it is not the end of the world if you don't get a job right out of college."  

"I held myself to such high expectations, and I expected to have a great job locked down months before graduation. When graduation came and went, and I still didn't have a job offer, I felt the world was ending. But everything always works out somehow!"  
By: Taylor Mathis