LAS Alumni Spotlight – Lauren Vespa
Author: tbrow | Image: tbrow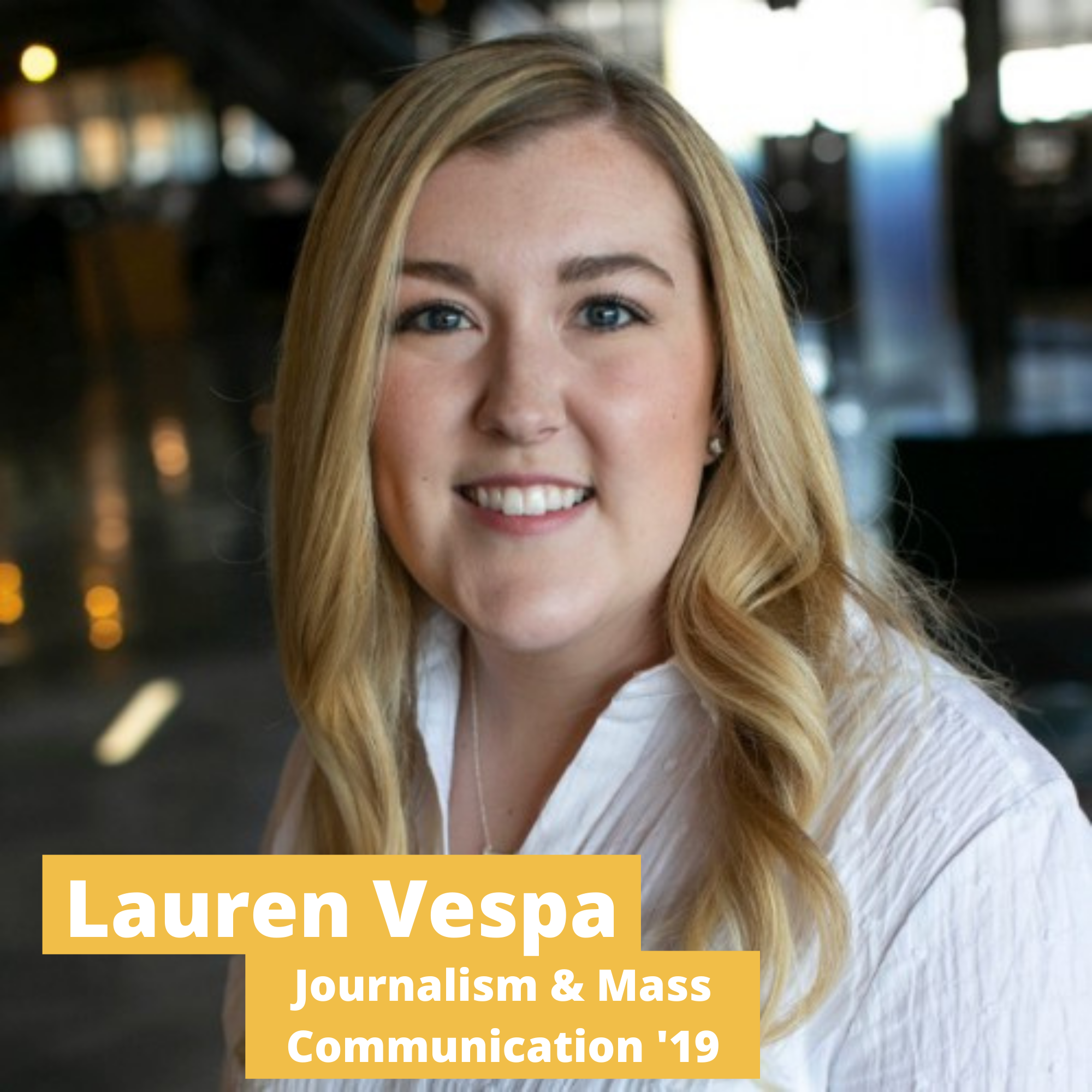 Alumni Spotlight 
Name: Lauren Vespa 
Major: Journalism & Mass Communication  
Minor: Design Studies  
Current Position: Public Relations / Content Manager at Meyocks  
Graduation Year: May 2019 
What was your undergraduate experience like at Iowa State University?
Lauren enjoyed her time here at Iowa State and tried her absolute best to take advantage of every opportunity thrown her way! Lauren says that this resulted in her being very busy, but she does not regret a single second. One thing that Lauren admired about Iowa State is the feeling of closeness.  
"From walking through central campus to get to class, to living in a house off-campus with two of my closest friends, I always felt connected to the university" – Lauren Vespa 
What did you do at Iowa State that helped prepare you for where you are now?
Lauren mentions the courses she took during her time here at Iowa State University, where she was able to venture beyond her major of Journalism and Mass Communications and explore courses in Public Relations and Advertising. 
Lauren held multiple internships throughout her time here at Iowa State University, including the Meredith Apprenticeship Program. This program is facilitated by the Greenlee School of Journalism and Communication. 
"You can learn a lot in the classroom, but there's nothing quite like the first-hand experience you gain during an internship." – Lauren Vespa 
What influenced your decision to apply for the position you have now?
Lauren had been working at Two Rivers Marketing and started to feel an urge for some change. Without actively job searching, Lauren received an automated LinkedIn alert including a job posting from Meyocks in West Des Moines. 
"I might be a little biased, but any current students looking for internships at an agency should definitely check out both Two Rivers Marketing and Meyocks." – Lauren Vespa 
When did you decide on your next step after graduating with your bachelor's degree, and what did the process of taking those next steps look like?
Lauren had made up her mind after her internship at Two Rivers Agency, where she wanted to be post-graduate.  
"Before I knew it, I had lined up an apartment and a roommate in downtown Des Moines and was online shopping for furniture." – Lauren Vespa 
What advice would you give to undergraduate students?
"What you get out of something is entirely dependent on what you are willing to put into it." -Lauren Vespa 
Lauren discovered that when she invested time and energy into clubs, organizations, committees, etc., those were the things she enjoyed the most! 
"There is absolutely no need to rush, and most professionals are also figuring it out one day at a time just like you are. They just have a full-time job instead of a full-class schedule." – Lauren Vespa 
What is one thing you wish you would have told yourself freshman year and senior year?
Freshman Self: "It is okay to feel homesick and lonely sometimes, but it is up to you what you do about it. Are you going to sit in this dorm room glued to Netflix, or are you going to get out, stretch your legs and explore ways to really make this place home?" 
Senior Self: "Take a beat and enjoy the little things like randomly sitting on your roommate/best friend's bed at the end of the day to talk about both everything and nothing. Again, another cliche, but the time goes so incredibly fast, so it is okay to slow down occasionally."