LAS Alumni Spotlight – Hannah Morrow
Author: tbrow | Image: tbrow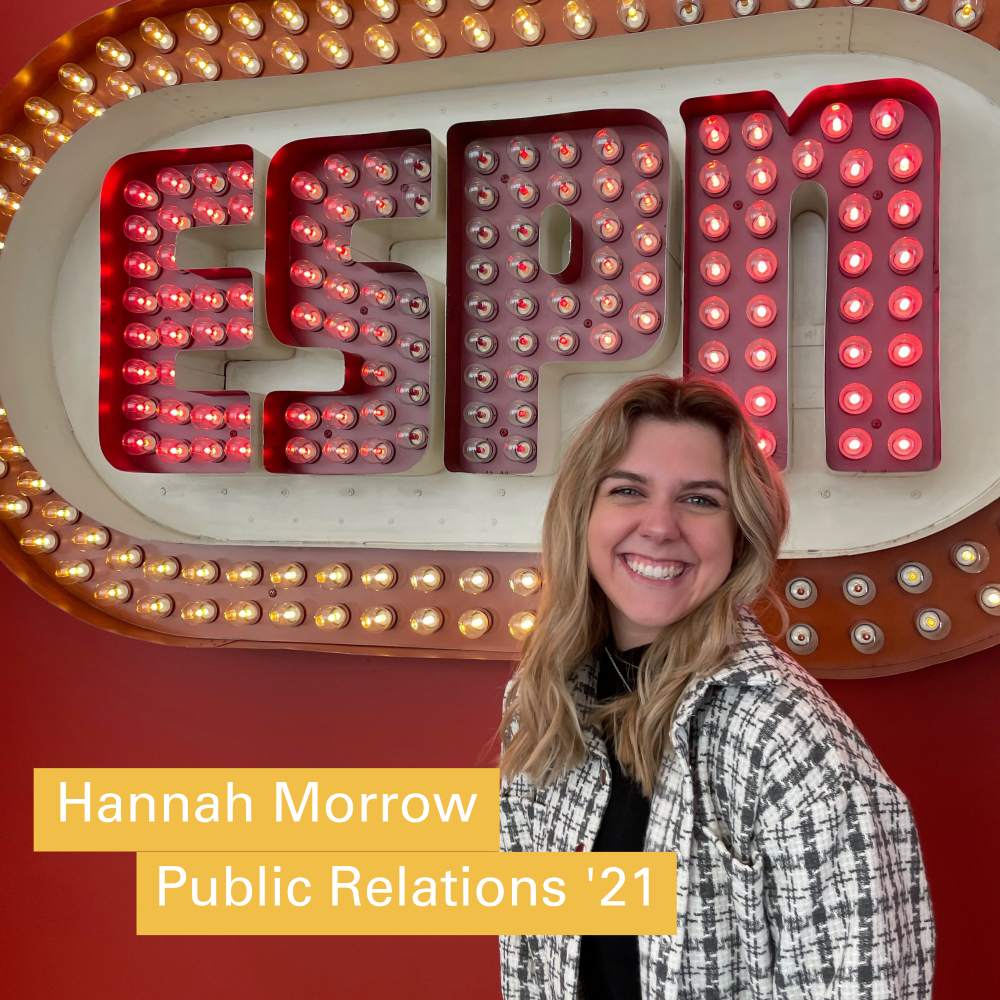 Alumni Spotlight 
Name: Hannah Morrow 
Undergraduate Major: Public Relations 
Undergraduate Minor: Event Management 
Graduated: Fall 2021 
Current Position: Production Assistant at ESPN on SportsCenter 
What was your undergraduate experience like at Iowa State University?   
When Hannah began at Iowa State University, she knew what her career goals were. However, she was not sure what to study to reach her goals. This had led Hannah to come to Iowa State University as an open option major and she had taken a lot of different courses. Hannah had taken many courses in AMD, event managing, theatre, public relations, hospitality management, political science, education, and more, and more! 
"Looking back, gaining knowledge on all of these subjects helped me become more well-rounded and I love that Iowa State provides that flexibility." 
What did you do at Iowa State that helped prepare you for where you are now?  
Trying out various internships is what helped Hannah prepare for her future.  
"At Iowa State, career services and career fairs were very accessible and encouraged which helped me get on top of everything early on."  
Hannah was able to get an internship after her freshman year with Space 519, which is a luxury boutique in Chicago. This allowed her to learn everything it takes to operate a local business every day. Hannah's scored an internship with the Academy of Country Music's charity, during the spring of her sophomore year, after she found out through the AESHM internship fair. For this internship, Hannah completed courses virtually for the semester, moved to California and planned a special moment with the ACM awards! 
"Even though it got cut short due to COVID, the experience was so valuable to me because moving across the country put me out of my comfort zone and helped me learn how to "adult"." – Hannah Morrow 
Through CyHire, Hannah was able to find an internship with the Iowa Cubs, working with their video production during the summer after her junior year. Her internship with the Iowa Cubs confirmed that she wanted to follow her dreams, her dream of working at ESPN one day! 
What influenced your decision to apply for the position you have now? 
"After attending the ESPY awards in 2018, interning with the Iowa Cubs, and helping launch the ISU Sports Media Club as president, I decided that I was ready to take the next step towards my future goals and apply." – Hannah Morrow 
LinkedIn was immensely helpful for Hannah. She was able to make connections with current production assistants and other professionals in leadership. This allowed her to build relationships as well as learn more about the role she was applying for. 
"Some of the relationships I made during this process have grown into friendships and mentorships and have made Connecticut feel more like home!"  
When did you decide on your next step after graduating w/ your bachelor's degree, and what did the process of taking those next steps look like? 
Hannah was able to accomplish a lot in her last couple of semesters here at Iowa State University! Hannah had decided to graduate early, however, this meant she had to work extremely hard in order to do so. This included taking on 20 credit hours one semester, completing her internship, serving as a peer mentor, and helping grow the ISU Sports Media Club. 
"The challenging work truly paid off for me and I genuinely think that was my favorite semester of college."  
What advice would you give to undergraduate students?  
"My advice for undergraduate students is to write down your goals."  
Hannah describes how everything that you are faced with and challenged by in college all becomes worth it once you identify what it is that you are fighting for.  
"Setting goals provides you with a purpose."  
Hannah had written down in a journal her freshman year that she wanted to work for ESPN one day. With her goal written down, this allowed her to feel more calculated with every decision and step she took to get on the path she needed to be on. 
"Setting smaller goals for myself for the week or the month contributed to accomplishing that bigger goal of mine as well."  
Hannah's Tip! 
"I invested in a goal-setting journal, and it has been incredible looking back on where I was at and seeing the progress I have made. I highly suggest applying this practice in your everyday life in order to reach your destiny!"