Classroom to Careers: Meet the LAS Career Services Staff
Author: tbrow | Image: tbrow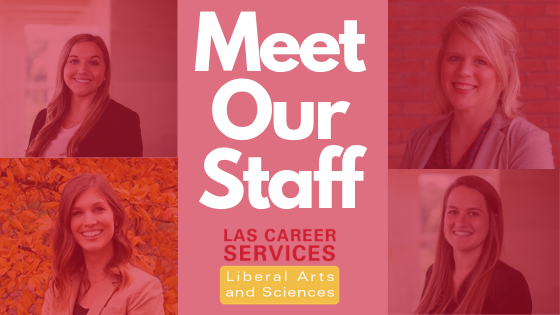 At a time where we are all virtual, we wanted to make sure you knew the whole team here in LAS Career Services who are here to help you with all of your career needs. We have four professional staff members with tons of expertise who want to help you succeed.
Meet Liz Hergert! Liz is a Career Advisor in LAS Career Services. Liz is new to the LAS Career Services team and will be assisting with student appointments, presentations and graduation outcome reporting. She is an Iowa State LAS alum and has been working in career services for a little over 2.5 years. Her passion for career services began when she was an undergraduate student worker in LAS Career Services – and it has continued to grow ever since! Liz enjoys every chance she gets to build new relationships and assist students as they navigate their career search.
Meet Taren Reker! Taren is the Director of LAS Career Services and has been on staff for 8 years. She manages all of the moving pieces in our office and also does some career advising for students. Taren has an undergraduate degree in English and Technical Communication, as well as a master's degree in Higher Education. She is an ISU Alum and even worked in the career services office as a graduate practicum student before starting full-time. When Taren isn't in the office, she loves reading, being with her friends, and traveling.
Meet Angela Wagner! Angela is the course instructor and Career Education Coordinator in LAS Career Services.  She started instructing career preparation classes at Iowa State University 4.5 years ago.  Angela is also an ISU alum with a Bachelor of Science degree in Marketing (May 12') and a Master of Education degree in Higher Education (Dec. 18').  Her passion for career services began during her graduate assistantship in the LAS Career Services office during 2014.  She has a sincere passion for inspiring students and helping them achieve their future career goals.
Meet Lexi Elliott! In her position within LAS Career Services, Lexi works to connect students and employers in various ways. She assists in helping students become aware of the great opportunities that LAS Career Services has to offer from one on one meetings with advisers, career fairs, CyHire, professional workshops, and so much more. I also work closely with employers to understand their specific needs and wants in their job searches to provide the best quality opportunities for LAS students. Lexi graduated from ISU in 2011 with a Communication Studies degree – I loved my time at ISU and always knew I would be back in one way or another – little did I know I would have the opportunity to work professionally at the university.
Now we want to learn more about you and your career goals! Schedule an advising appointment today through CyHire, or by emailing lascs@iastate.edu.